Rain-Bo Lures
The Rain-Bo brand lures were designed and produced by Llyod Ansley from Brandon Manitoba,from 1948-1962.They were sold under the name Rain-Bo Lures a Product of Glo-Lite Plastics 218 Victoria Street,Brandon Manitoba.Llyod Ansley's lures were all produced by himself and the styles are unique and the workmanship is superior.He manufacture several styles and models.His spring-loaded style lures are a piece of artwork.Quite a complicated design.Made in two styles.He also made Runt style lures,Vamp style,the Sidewinder,Bottle-Nose and Blunt-Nose Minnows and Tandem style Runts.
The workmanship and painting on Ansley's lures are very attractive to both fish and collectors.Being an artist this attributed to such quality and unique paint schemes.
For more info on Manitoba Lures contact Richard Rounds at www.manitobalures.com .He has a great affordable CD on Manitoba Made Lures.
RAIN-BO TANDEM RUNT STYLE LURE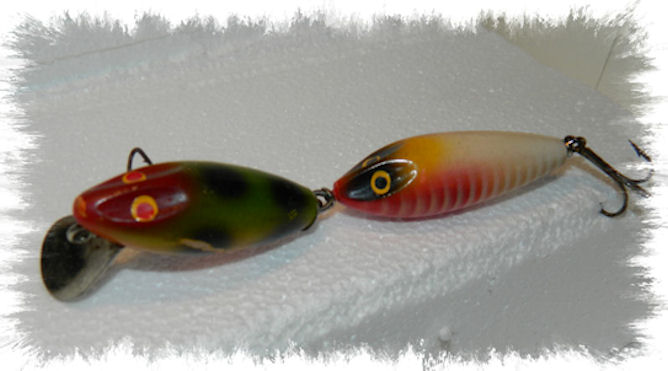 ---