JASPER LURES,WINNIPEG MANITOBA
A unique lure designed by Chris Handkamer from Winnipeg,Manitoba.A trully original designed lure that incorporates a wire through system into a v shaped wood body.Hook fastened with a high quality metal plate also found on the blunt style nose of these wooden bodied lures.Manufactured in 3 sizes 5,7.5 and 9 centimeters.All Jasper were handmade and hand painted.
As the Jasper box states "Fish Enemy Number One".After returning from World War Two spending his time with the navy,Chris Handkamer found employment as an upholsterer with the CNR.His lures were produced in his spare time as a hobby.
The lure produced as the Jasper box states a "tantalizing minnow action" with it's fast wobbling action.Box end states Jasper manufactured by Chris Handkamer 408 McKenzie Street Winnipeg,Canada.
Above information was researched by Manitoba lure collector "Richard Rounds"
JASPER LURES AND GREEN STYLE BOX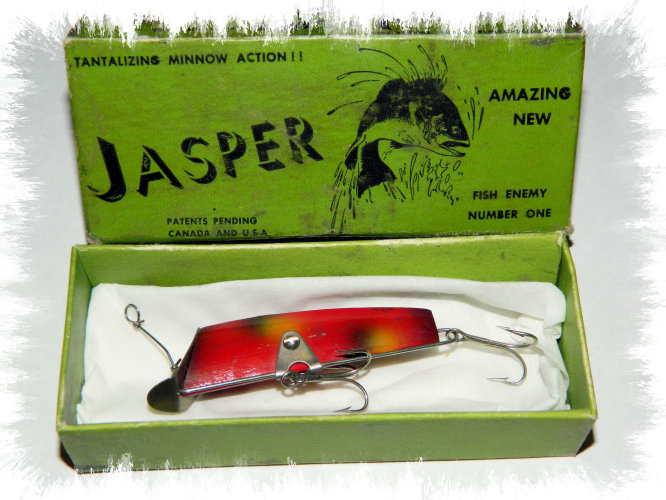 JASPER LURES SHOWING STENCILED TOP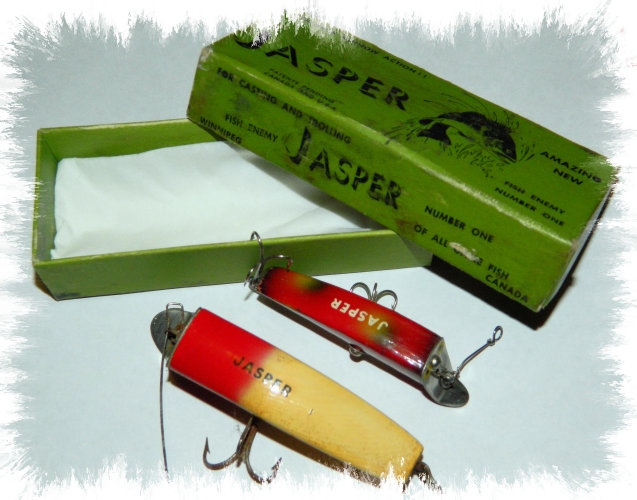 ---